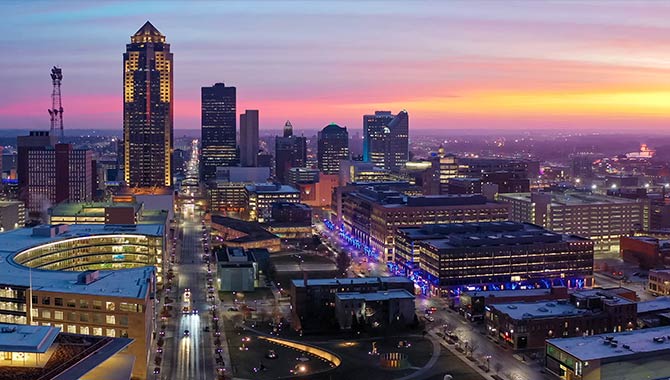 Iowa's July 2023 gambling report shows a 4% decrease in gaming revenue
The state of Iowa has released its sports wagering, gaming and fantasy sports revenue reports for the month of July. 
By Gambling Insider
Key points: 
– Total sports wagering handle totals $109.7m
– Total gaming revenue $150m
– Total fantasy sports revenue $58,113
Sports Wagering
The total handle for sports betting in Iowa was recorded to be $109.7m, a 1% increase year-on-year, with online sports wagering platforms accounting for $101.3m of this total.
Net receipts, or profits, saw a 5% decrease from July 2022's numbers, with the latest total reaching $10.6m.
This could be facilitated by the $99.1m in total payouts, a 2% increase.
The above graph shows the sports wagering handle for the month of July 
The venue with the highest handle, Wild Rode Jefferson, recorded a sports wagering handle of $15.8m, a 21% increase year-on-year.
This was comprised of $12,879 in retail bets and $15.76m in online wagers.
Crown IA Gaming, otherwise known as DraftKings, contributed the highest handle in the online sports wagering sector with $37.4m, an increase of 28% year-on-year.
Crown IA Gaming also recorded the highest handle out of the online platforms in July 2022 at $26.6m, compared to Betfair in second place, with $26.2m.
This year, Betfair had a total handle of $25m.
Gaming
The adjusted gross revenue for gaming in Iowa was $150m in July 2023, a 4% decrease when compared to last year's figures.
When broken down into the two main segments of casino game types, table revenue accounted for $14.4m, while slot machines made up the rest with $135.6m.
The above graph shows the distribution of revenue across different types of slots in Iowa 
Although they have the lowest revenue, $100 slots had the highest revenue percentage of 14%, followed by penny slots, which had the highest revenue and second highest revenue percentage of 11%. 
Across the state, a total of 1.5 million people were admitted into physical casino venues, with Prairie Meadows Racetrack & Casino recording the highest amount with 208,127 visitors.
This correlates with the fact that Prarie Meadows Racetrack & Casino also saw the highest gross revenue out of the physical casinos at $20.8m. 
Blackjack proved to be the most popular table game in 2023 in Iowa, accounting for $4.6m in revenue from $25.5m in table drop, a 13% decrease and a 6% increase respectively.
The above graph shows the revenue of different table games in Iowa
Fantasy Sports
The total fantasy sports revenue from both DraftKings and FanDuel came to $58,113 for July 2023, a 28% decrease from last year.
When looked at individually, the FanDuel revenue of $8,337 was a 64% increase, while the DraftKings revenue of $49,796 was a 34% decrease.
There were fewer contests held by both companies for Iowa participants too, with 102,868 marking 18,052 less events by DraftKings – and 2,903 from FanDuel being 689 less than last year too.


Zdroj:www.gamblinginsider.com
Shrnutí
V červenci 2023 zveřejnil stát Iowa zprávy o příjmech z hazardu, sázení na sport a fantasy sportu. Celková sázka byla ve výši 109,7 milionu dolarů, což znamenalo o 1 % nárůst oproti loňskému roku. Internetové sázení představovalo 101,3 milionu dolarů. Celkový zisk byl 10,6 milionu dolarů. Nejvyšší sázka byla v kasinu Wild Rose Jefferson ve výši 15,8 milionu dolarů. Celkové příjmy z hazardních her dosáhly 150 milionů dolarů, což znamenalo 4% pokles oproti loňskému roku. Nejpopulárnější stolní hrou byl blackjack. Celkové příjmy z fantasy sportu byly 58 113 dolarů, což znamenalo 28% pokles oproti loňskému roku.